2013
Aluminium, polycarbonate, steel and rubber
In collaboration with Aibek Akbotayev, Nasser Al Bin Ali, Julius Heyne, Paul de Panisse Passis
The urban city feels over-planned. It does not seem to belong to the people living there. Parking slots, road markings, and the incessant motion of the passing vehicles all suggest that these spaces were built and thought out around cars.
More than a matter of quantity of dedicated areas, the city seems itself unchangeable. Contrary to a school where the playground is intentionally kept empty to encourage serendipitous outdoor activities, there is no such opportunity outside of its grounds. The established street infrastructure and the omnipresence of signage constantly remind us of the set rules, hence discouraging any creative use of the public space.
Koala Hoop is a portable basketball hoop to be quickly and temporarily mounted onto existing street poles.
Mounting the hoop is simple and does not require any special equipment. It is set up by placing the V-shaped wheels in contact with the post surface. It is then raised from the ground to the regulatory height by pulling the rope, and is fully deployed by moving the central slider to expose a large and thick polycarbonate backboard.
The structure remains stable and rigid once mounted and is designed to withstand ball impacts 1. As the hoop does not require any permanent fixture to be attached, it can be rapidly and easily dismantled once the game is over, leaving the supporting street pole intact.
1

This resilience is achieved with a spring-assisted support arm which ensures that the V-shaped wheels stay in contact with the pole at all times, and with a bi-directional brake which prevents the wheels from rolling unexpectedly in use.
Koala Hoop makes people have a different perspective of their cities.
As potential players wander the city to locate the perfect spot to use Koala Hoop, they diligently survey and analyse the surroundings, they question the relevance of street furniture, and argue whether some of these fittings could be used for other activities (e.g. for a basketball game). In all, instead of passively following the official prescribed urban planning, such players become more attentive and engaged with the city design and its infrastructure.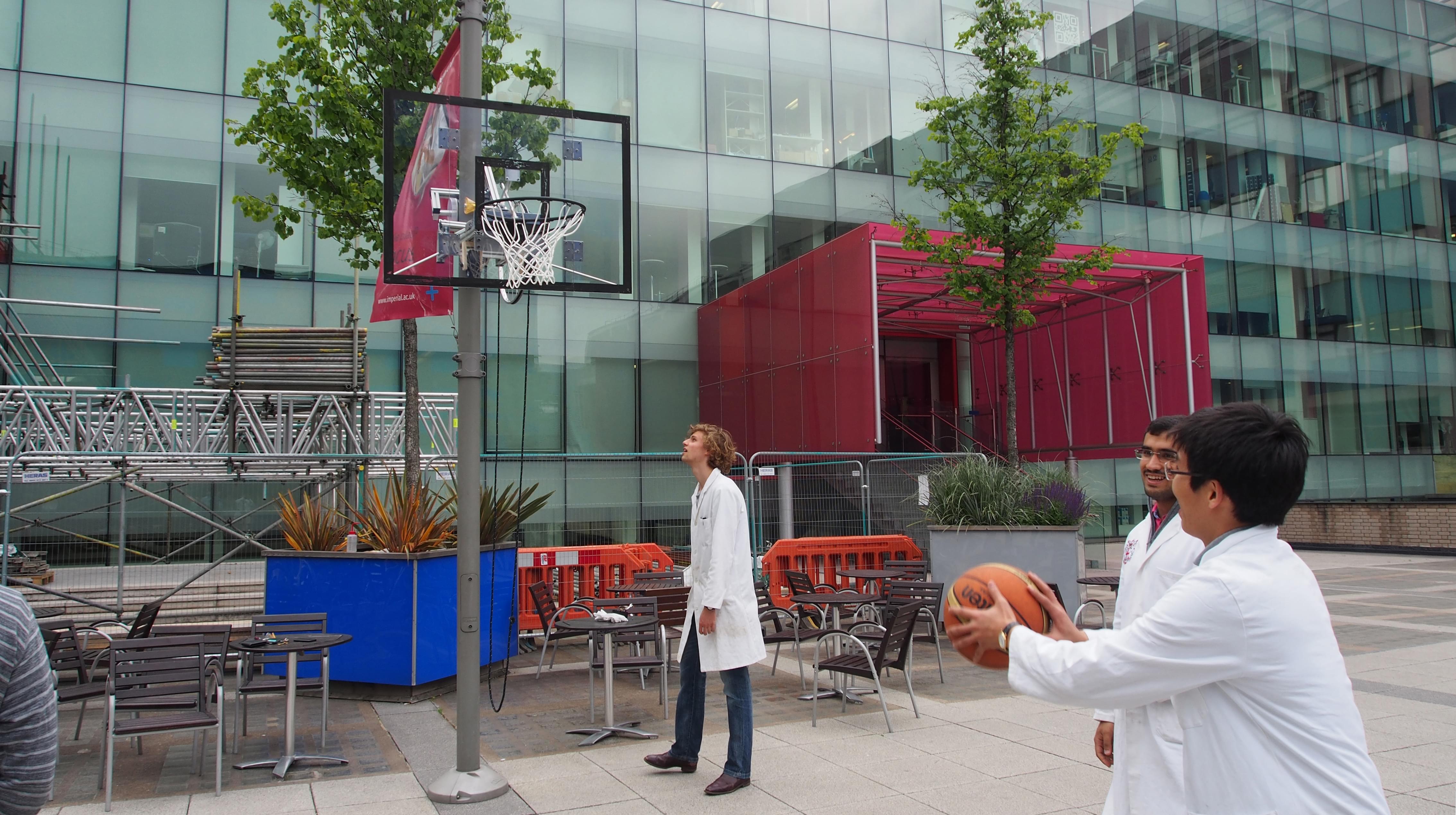 A functional 1:1 scale prototype has been entirely designed, manufactured and assembled, which involved the machining of multiple custom parts. Koala Hoop was successfully tested: it manifested a good backboard rigidity, an easy mounting procedure, and no visible damage to the test pole when detached. Players expressed their enthusiasm about the opportunities suggested by the prototype, and enjoyed smashing the backboard.